Reviews
Come and see what everyone is talking about!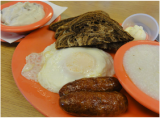 Rick's home cooking is simple and good
By Patrick Evans-Hylton
Virginian-Pilot correspondent
© June 13, 2011


The dish: Two-Egg Platter with Edwards Country Sausage

The cost: $6.99

The eatery: Rick's Café, 1612 Virginia Beach Blvd., 425-1625, www.rickscafevb.com

Why I liked it:
Many times restaurants will bill their fare as home cooking, but it is rare to find a dish that lives up to that promise. A recent breakfast at Rick's Café did just that. Located near the intersection of Virginia Beach and Oceana boulevards, Rick's Café is an open, airy, straightforward kind of restaurant with simple, good food. The feel, and experience, is friendly and relaxed.

I selected the Two-Egg Platter with Edwards Country Sausage. A number of platters are available, sans protein or with additions from bacon to New York strip steak, with prices starting at just $4.99. Options with the dishes include hash browns, grits (which I chose), or applesauce, as well as a selection of toast (I picked marble rye), biscuit, English muffin or pancakes. I added a side of sausage gravy – a wonderful rich, cream gravy generously peppered with bits of sausage patty – for an additional $1.99.

My selection was awesome; the eggs were cooked perfectly to my order of over-easy, with the whites firm and the large golden yolk barely held together, bursting on the plate with the slightest touch of my fork. The sausage links, plump and fat and flavorful, come from Edwards in Surry County – a delicious addition. Grits were creamy, and toast just crisp but yet yielding enough to sop up the food from my plate to make sure I got every delish last bit.

Rick's has been open since 1986 and is open 24 hours a day (breakfast is served round-the-clock), seven days a week.


---